LGBTQIA
LGBTQIA Network
With support from the CNY Community Foundation, an LGBTQIA Network was formed in 2017 in Madison County. Housed at BRiDGES, the Network is a resource for LGBTQIA individuals and groups and their allies. The goal of the Network is to enhance the supports and resources that currently exist, to identify gaps and needs for services, and to bring together the community to raise awareness, increase support and reduce isolation.
Local providers, parents, community members, and school faculty have been trained in topics including: Safe Zone, Working with LGBTQ Youth and LGBTQ 101. LGBTQIA specific informational sheets were mailed to doctors' office and schools throughout the county. If you or your business would like to join the LGBTQIA Network please email [email protected]
Youth Group
A youth group supported by the Madison County Youth Bureau, for youth in Grades 7 – 12, is held every Thursday evening virtually via Zoom for LGBTQIA youth. To attend or for more information text 315-280-8265.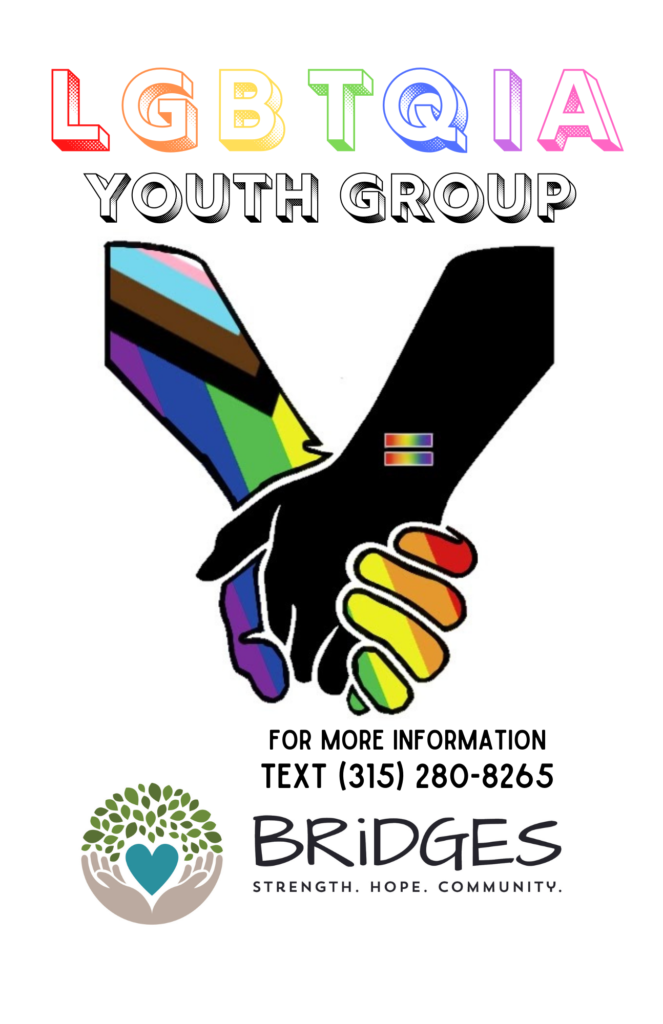 Show your Madison County NY PRIDE!
The Madison County LGBTQIA Network, hosted by BRiDGES, is distributing Progress PRIDE flags to businesses and organizations around our county. Our goal is to find at least one business or organization in each town or village in our county willing to participate and hang a flag. As we are a very rural county without a large visible LGBTQIA community, LGBTQIA people can often feel that they are alone. By having LGBTQIA-owned and -supportive establishments display flags for the month of June throughout our county, we hope to let isolated and vulnerable populations know that they are not alone and that there is an extensive network of community-allies and safe spaces for them.
We encourage people to participate in our Madison County PRIDE campaign, by sharing a selfie with these rainbow flags at locations around the county and using the hashtag #MadCoNYPRIDE
Upcoming Events
Click on the images below to view the calendar listing all upcoming events!